From CNN's Konstantin Toropin
The Phoenix Police Department has announced it will no longer use the "Carotid Control Technique," more commonly known as a chokehold
"We can't function as a department without the trust of our community and there are adjustments we can make to strengthen that trust," the department's chief, Jeri Williams, tweeted.
"We pride ourselves on being an organization willing to learn and evolve, to listen to our community and become better," Williams added.
The department said the move is part of their regular evaluation of "policies and procedures to align them with 21st century policing practices, community expectations, and our department's mission and values."
From CNN's Sara Turnbull, Kara Devlin and Hollie Silverman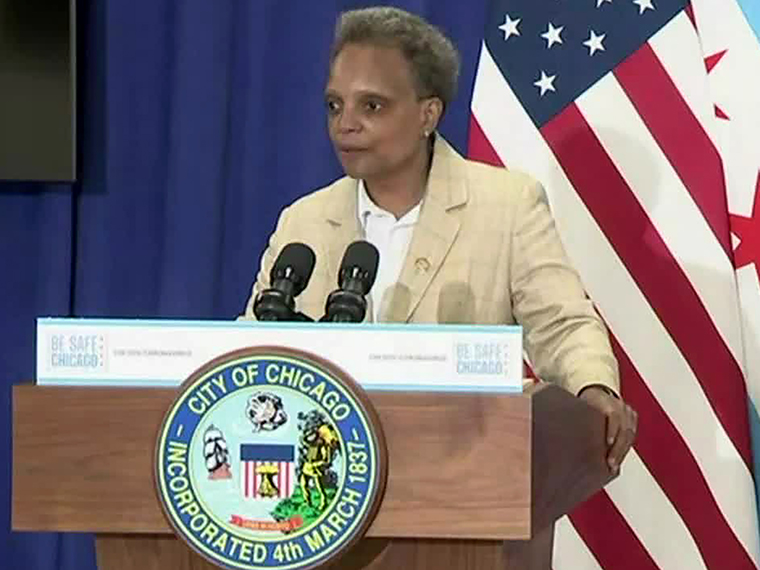 In response to questions about President Trump's comments on the unrest across the country following the death of George Floyd, Chicago Mayor Lori Lightfood said Trump is "trying to divide us in everything that he does."
"He's not trying to bring us together ... He's trying to divide us in everything that he does," Lightfoot said. "What I see coming out of this White House every single day, which is racism, homophobia, xenophobia, trying to demonize our immigrants and refugees...I am going to stand up and I'm going to push back against that every single time, no regret for those words. No regret."
She also said during a news conference Tuesday she is open to state licensing for police officers in her city.
"If I can't get my nails done, which I don't do you can probably tell, but if I did, the person who is handling my nails is licensed by the state. If I go get a haircut, the barber is licensed by the state," Lightfoot said. "There's a uniformity in the professionalism and then they have to recertify themselves on a regular basis. Why wouldn't we have that for police officers? I think it's an idea that we absolutely must discuss and debate, because it makes sense."
From CNN's Konstantin Toropin
The American Civil Liberties Union and the Seattle-area chapter of Black Lives Matter filed a federal lawsuit against the city of Seattle in an effort to "immediately stop the use of chemical agents and projectiles on protesters," a statement and court filings revealed.
The lawsuit, filed today in the Western District of Washington, argued the police's use of chemical agents and projectiles for crowd control violates the First and Fourth Amendments.
"Mayor Durkan and Chief Best failed to take action sufficient to remedy the ongoing violations of protesters' constitutional rights by SPD officers," the complaint stated. "They have continued to authorize the use of less-lethal force to control demonstrations even while acknowledging that the majority of protesters have been peaceful."
"It is unacceptable that the Seattle Police Department would then respond to these demonstrations with more excessive force, including using tear gas and flashbang grenades," Livio De La Cruz, board member of Black Lives Matter Seattle-King County, said in the statement.
The lawsuit asks the court to issue an emergency order barring the use of "less-lethal weapons to control and suppress demonstrations."
Less-lethal weapons include "chemical irritants, batons, kinetic impact projectiles, and weapons intended to stun with light and sound," the suit says.
"This is one of many lawsuits the ACLU plans to file across the country to safeguard our right to protest in peace," Vera Eidelman, a staff attorney with the ACLU, said in the statement.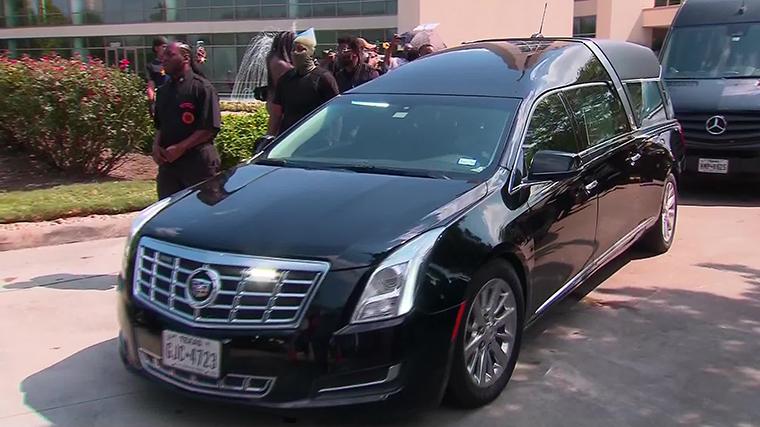 The hearse carrying George Floyd has left the Fountain of Praise Church in Houston, Texas, following his private memorial service.
Escorted by the Houston Police Department, the procession will now make its way towards the cemetery where Floyd will be buried.
For the last mile of the journey, George Floyd's casket is expected to be carried by a horse-drawn carriage to his final resting place, next to his mother in the Houston Memorial Gardens in Pearland, Texas.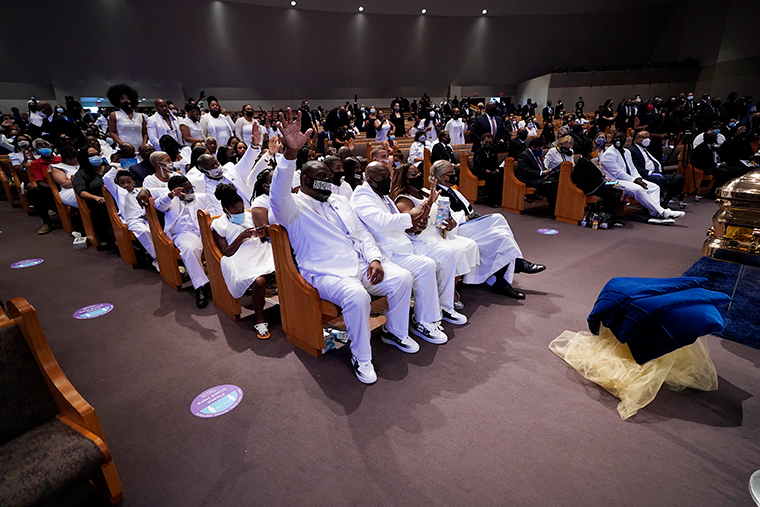 The funeral service for George Floyd has now ended.
Floyd's body will be escorted by the Houston Police Department into Pearland's Houston Memorial Gardens.  
Floyd will travel the last mile of his journey to buried in a horse drawn carriage, according to a statement from the city of Pearland on Monday.  
Floyd, 46, will be buried next to his mother, according to the Fort Bend Memorial Planning Center.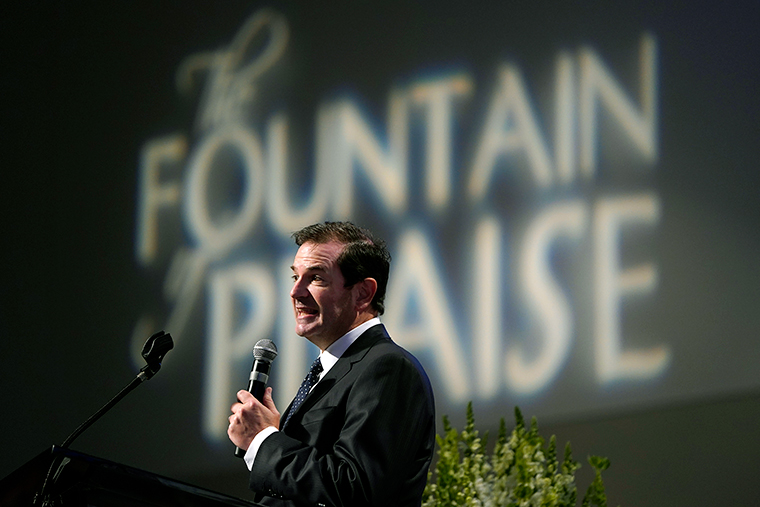 Steve Wells, senior pastor at South Main Baptist Church in Houston, Texas, said during George Floyd's funeral that he would have "understood" if the family had said "we don't need to hear from any white people today." 
He continued: "And I have to tell you, at my church it is easy to not talk about racism. At my church, it is easy to dismiss as politics the economics of hundreds of years of systemic racism but not talking and not acting is the path to destruction." 
Addressing white churches, Wells said, "We are better than we used to be. But we are not as good as we ought to be. And that is not good enough. Which means you have to take up the work of racial justice."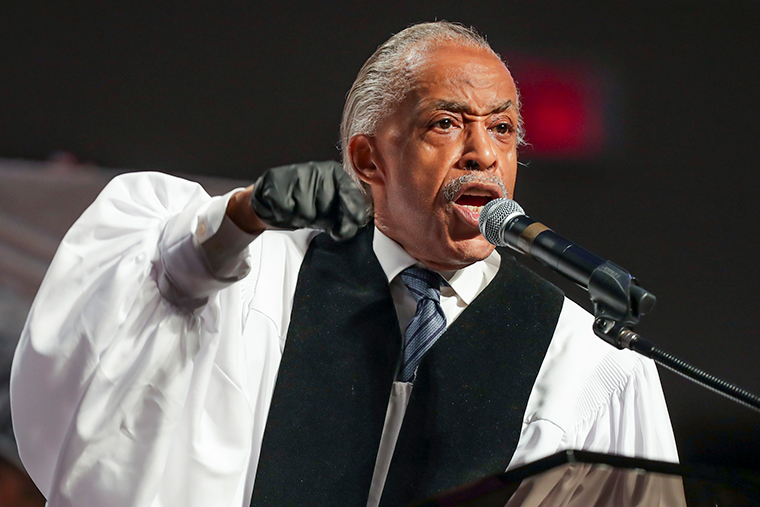 Rev. Al Sharpton vowed to the keep the movement going in the memory of George Floyd.
Sharpton described the legacy Floyd has left behind and the action his death has sparked across the globe.
"You said you wanted to touch the world. Well, God had already made you for that. But you didn't touch it in a basketball court or a football court. God had something else for you to do. Because all over the world, George, they're marching with your name. You've touched the world in South Africa. You've touched the world in England. You've touched every one of the 50 states, even in a pandemic, people are walking out in the streets not even following social distancing because you've touched the world. And as we lay you to rest today, the movement won't rest until we get justice. Until we have one standard of justice," Sharpton said.
Speaking directly to Floyd, he said, "Your family's going to miss you, George, but your nation is going to always remember your name. Because your neck was one that represented all of us."
Sharpton said Floyd's suffering represents "our suffering."
"You fought a good fight. You kept the faith. You finished your course. Go on and get your rest now. Go on and see mama now.  We going to fight on. We going to fight on. We going to fight on. We going to fight on," he said.
Watch:
From CNN's Maureen Chowdhury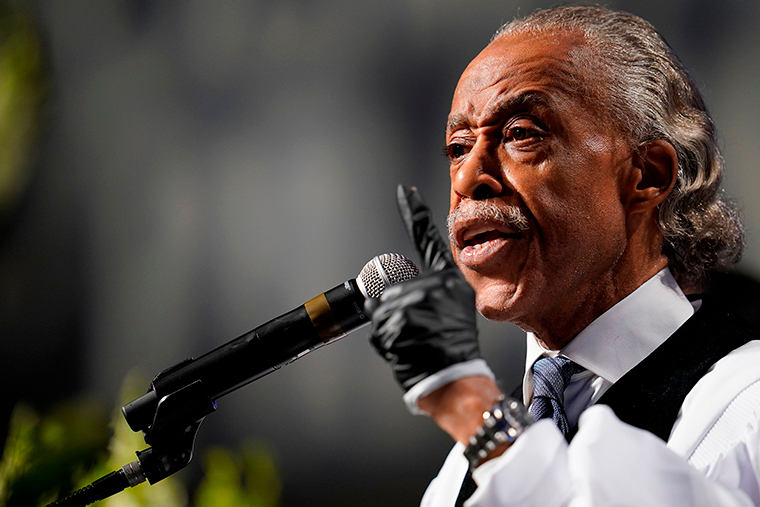 Speaking at George Floyd's funeral, Rev. Al Sharpton called out the NFL's apology regarding players' kneeling during the national anthem, a form of protests that were started by former 49ers quarterback Colin Kaepernick.
"Don't apologize, give Colin Kaepernick a job back. Don't come with some empty apology," Sharpton said.
Sharpton highlighted the fact that Kaepernick took a knee for families like Floyd's.
"You sorry, then repay the damage you did to the career you stood down because when Colin took a knee he took it for the families in this building and we don't want an apology, we want him repaired," Sharpton said.
Other black families whose loved ones were killed by police were also in attendance at the funeral, including the families of Eric Garner and Michael Brown.
Rev. Al Sharpton took a moment during his eulogy at George Floyd's funeral to recognize other families in the audience whose loved ones have been killed by police. 
"I must also recognize several families that are here that came at great sacrifice. But they wanted to be here, to be part of this because they understand the pain better than anyone. Because they've gone through the pain," Sharpton said.
One by one, Sharpton asked each family member to stand as the attendees clapped for them. Sharpton recognized Eric Garner's mother, Botham Jean's sister, the family of Pamela Turner and the father of Michael Brown. Sharpton also recognized Trayvon Martin's mother and the father of Ahmaud Arbery, a black man who was fatally shot near Brunswick, Georgia, following a pursuit by at least two white armed men. 
"All of these families came to stand with this family because they know better than anyone else the pain they will suffer from the loss that they have gone through," Sharpton said.
Watch: