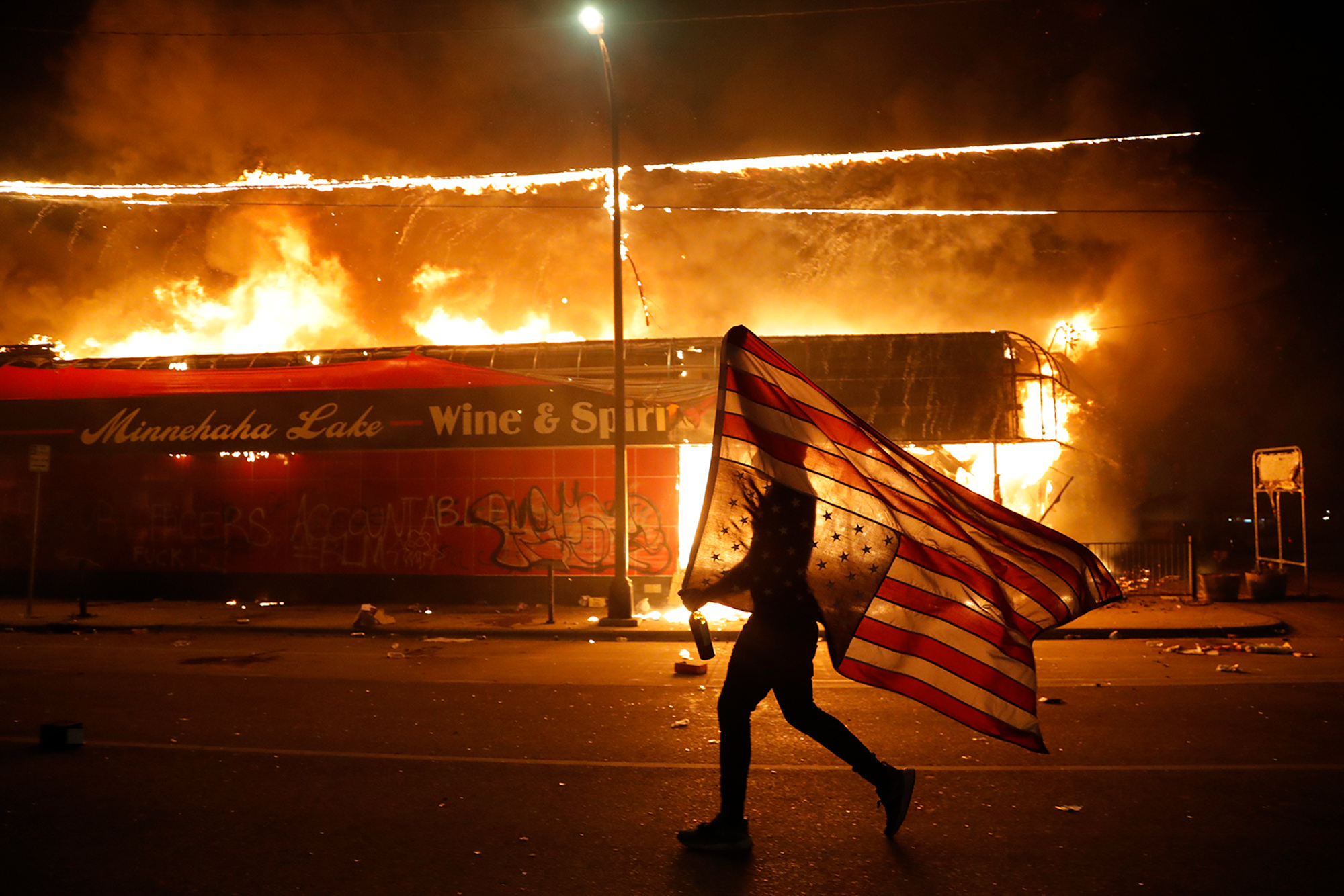 Protests swept across a number of major American cities on Thursday, with crowds taking to the streets to demand action against police brutality and accountability for several related deaths.
Minneapolis and St. Paul, known as the "Twin Cities" of Minnesota, both saw huge protests. In St. Paul, protesters faced off against riot police, batting tear gas canisters back and forth. More than 170 businesses were looted or damaged by the protests, police said.
And in Minneapolis, thousands of protesters surrounded a police precinct and set it on fire. They spray-painted the sides of the building, tried to climb up it, and cheered as the flames engulfed the building.
All staff inside had been evacuated prior to the fire.
In Memphis, Tennessee, protesters marched through midtown for several hours. They held up signs demanding justice for several black Americans who had recently been killed -- George Floyd, Ahmaud Arbery, and Breonna Taylor.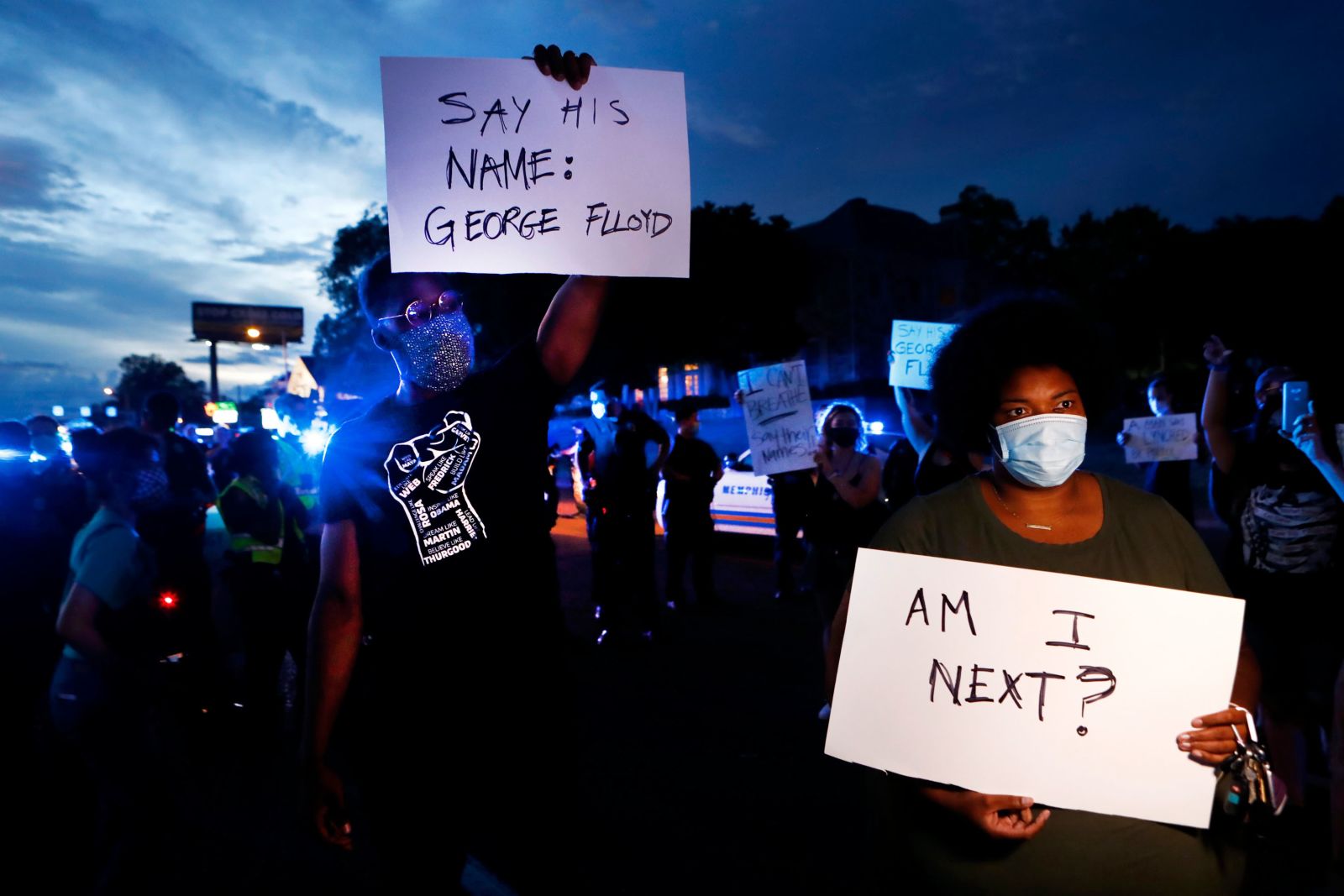 The protests also escalated into violence in Louisville, Kentucky, where Taylor lived and was shot by police in March.
Shots were fired in the crowd during the protests tonight, said police special advisor Jessie Halladay.
Protests also took place in other cities like Denver, Colorado, and Phoenix, Arizona.
See the full gallery of protests across the US: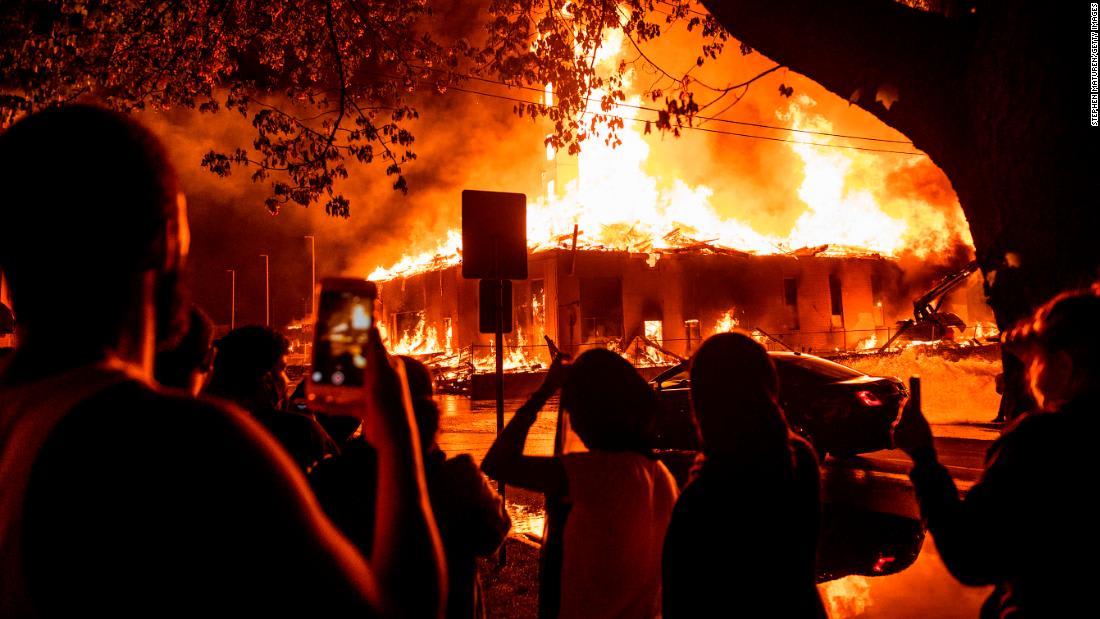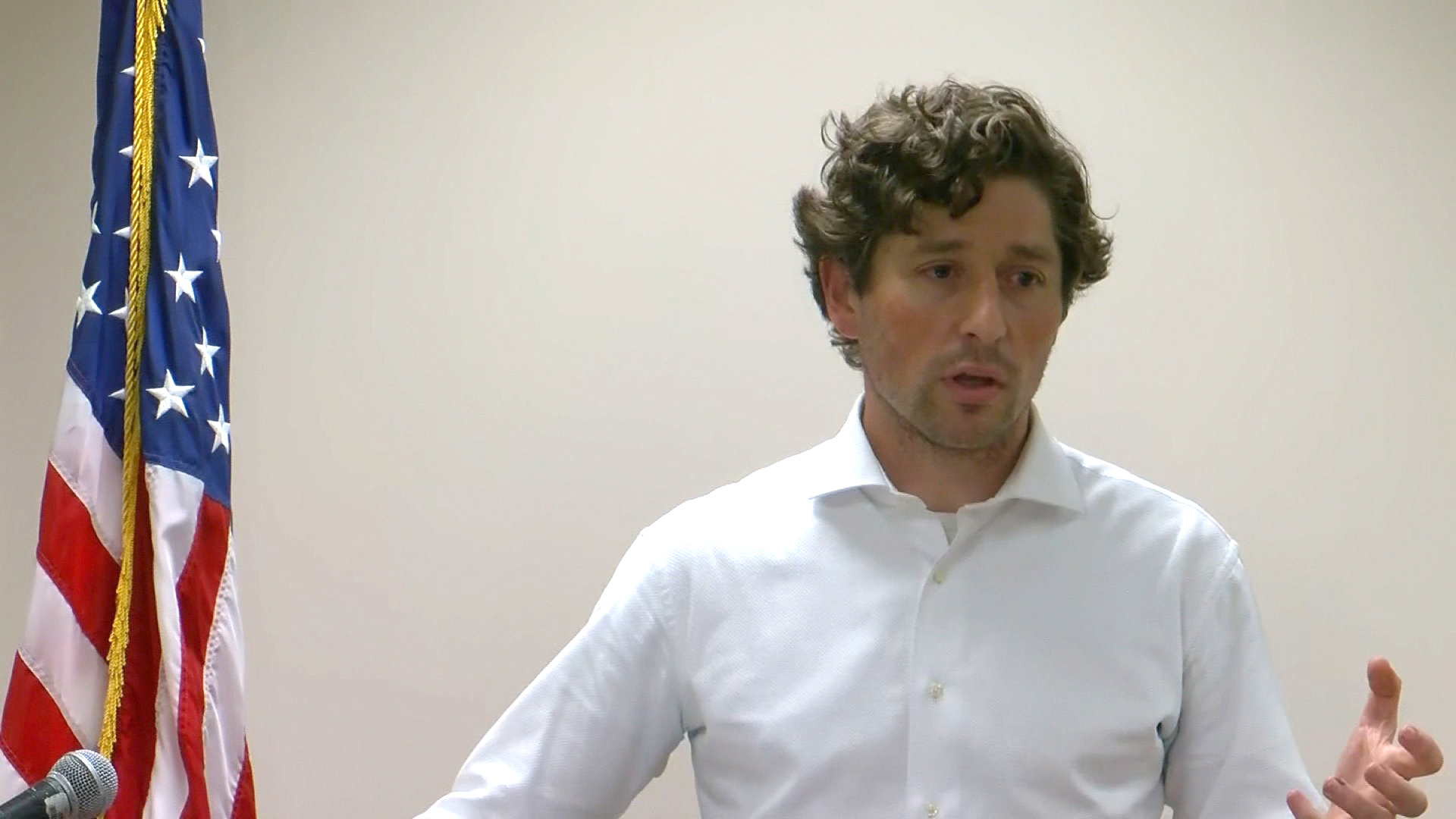 Minneapolis Mayor Jacob Frey has responded to President Trump's tweet, which accused Frey earlier tonight of weak leadership.
Trump's tweet: "A total lack of leadership. Either the very weak radical left mayor, Jacob Frey, get his act together and bring the city under control, or I will send in the National Guard and get the job done right," Trump said.
Frey's response: The mayor addressed the President's comments at a press conference tonight.
"Weakness is refusing to take responsibility for your own actions. Weakness is pointing your finger at somebody else, during a time of crisis. Donald Trump knows nothing about the strength of Minneapolis. We are strong as hell. Is this a difficult time period? Yes. But you better be damn sure that we're going to get through this," he said.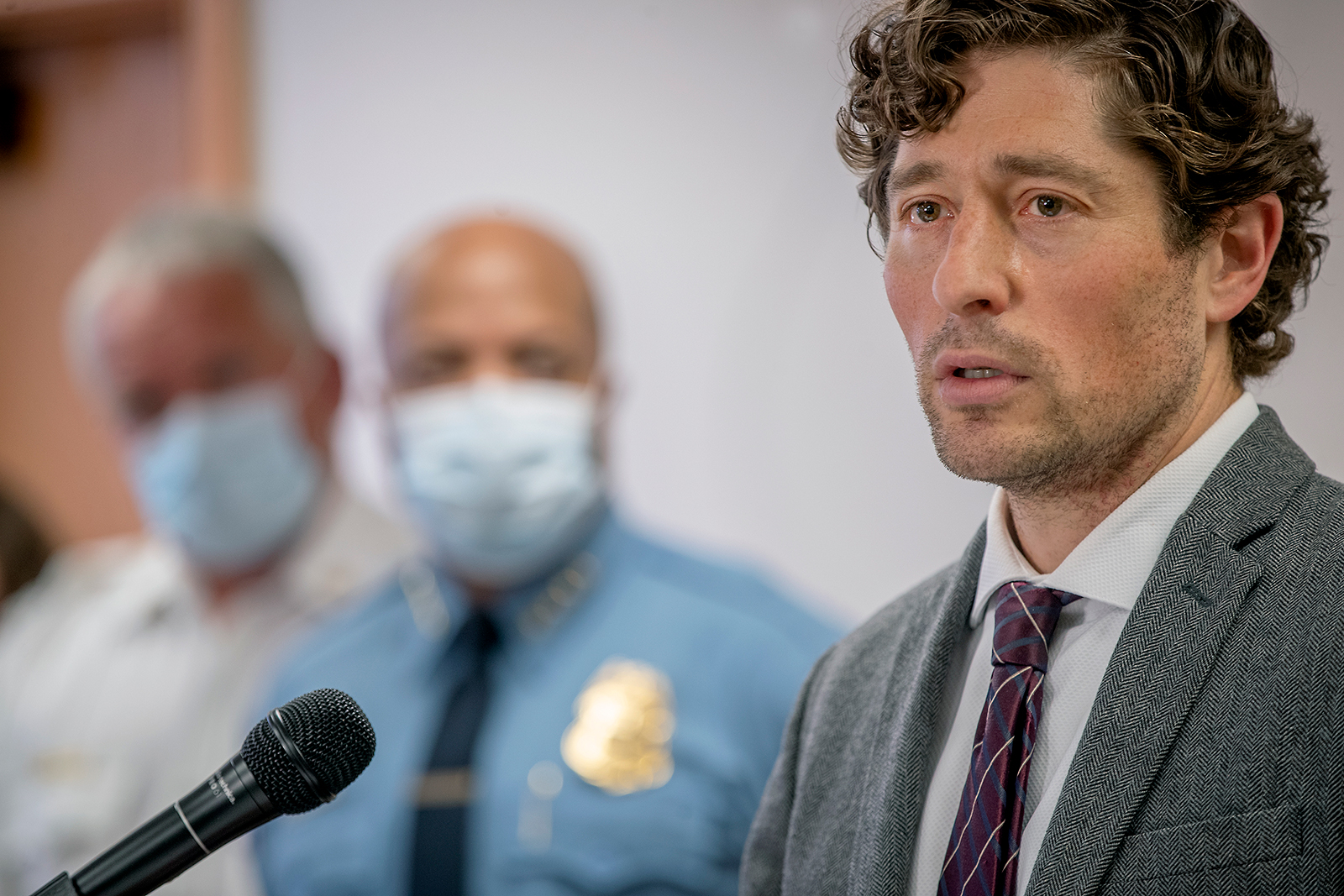 Minneapolis Mayor Jacob Frey condemned the looting and destruction seen in the city tonight during violent protests.
"What we have seen over the past several hours and the past couple of nights in terms of looting is unacceptable," he said at a press conference. "Our communities cannot and will not tolerate it."
"These are community institutions that we need. These are banks that people rely on to get cash. Grocery stores that people rely on to get food. These are pharmacies people rely on to get medicine," he said.
He added that the city had received resources from the state, and that further aid is expected.
On the burning police station: A police precinct was set on fire, vandalized and surrounded by protesters tonight -- but there was no sign of the police or firefighters. When asked why, Frey pointed to other fires and looting incidents that officers had to respond to as well.
The Minnesota National Guard, which was mobilized earlier in the evening, are now stationed at various locations facing potential looting, including banks, grocery stores, and pharmacies, he said.
"I understand the importance of a precinct," he said. "(But) the symbolism of a building cannot outweigh the importance of life, of our officers, or the public. We could not risk serious injury to anyone and we will continue to patrol the third precinct entirely."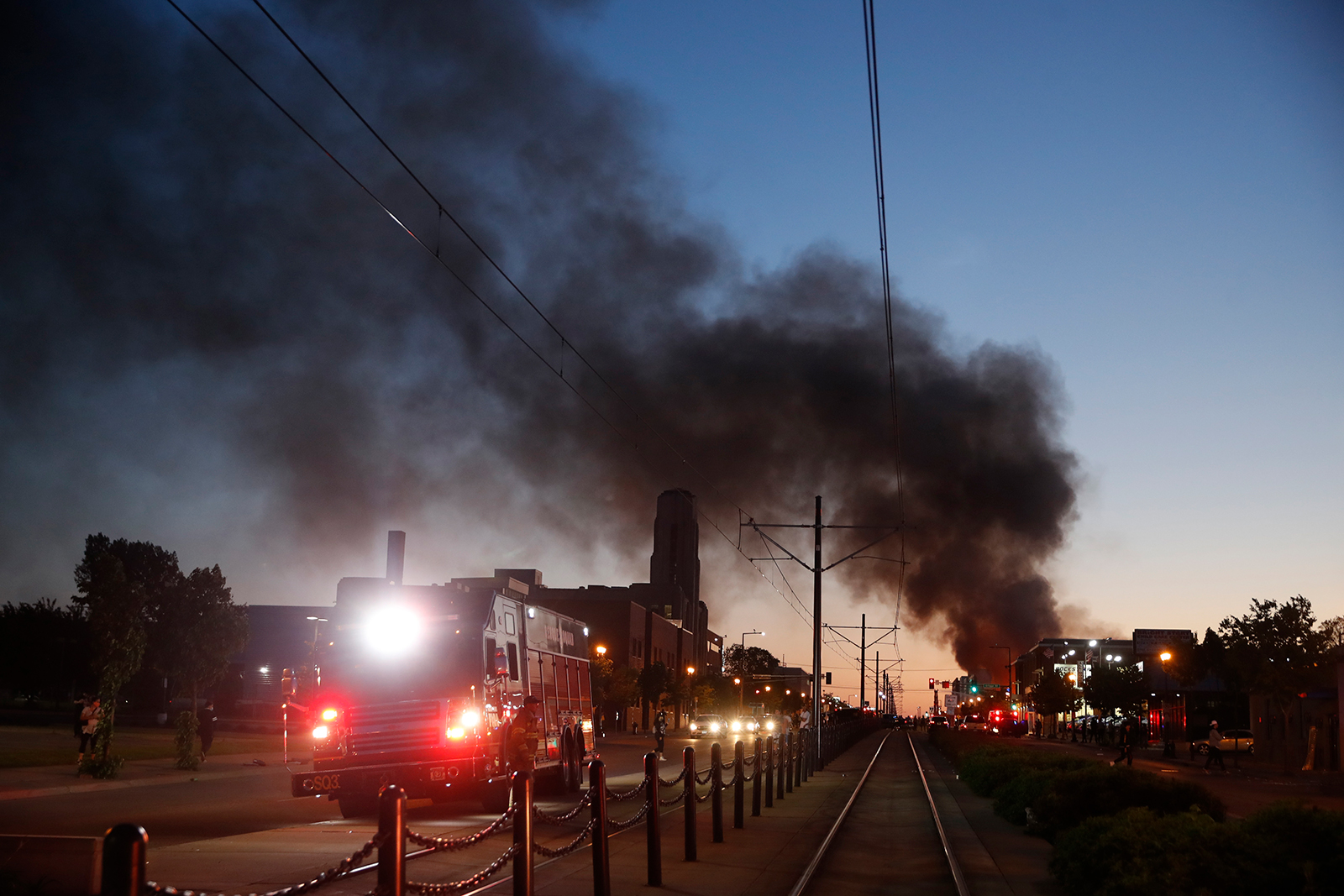 More than 170 businesses in St. Paul, Minnesota, were damaged or looted during tonight's ongoing protests over the death of George Floyd, according to the city police department.
"As Thursday turns to Friday, our officers continue to work shoulder-to-shoulder with local, state, federal and fire partners to protect St. Paul. More than 170 businesses damaged or looted. Dozens of fires. Thankfully, no reports of serious injuries. Calm on the horizon," the St. Paul Police Department tweeted. 
Crowds of protesters have faced off with riot police in St. Paul throughout the evening and overnight hours, with police throwing tear gas, and protesters throwing it right back.
There were reports earlier Thursday of protesters targeting stores like TJ Maxx and Target.
As evening fell, the Minnesota National Guard was activated, with more than 500 soldiers sent to St. Paul and Minneapolis, where fiery protests have also broken out.
Louisville Mayor Greg Fischer called for peace and order in the Kentucky city as protests continue to escalate.
"Understandably, emotions are high. As Breonna's mother says, let's be peaceful as we work toward truth and justice," he posted on his official Facebook page.
Breonna Taylor, 26, was an EMT who was killed during a police raid of her apartment in Louisville.
During the raid in March, Taylor was shot at least eight times when three officers forcibly entered her apartment to serve a search warrant in a narcotics investigation. The department said the men announced themselves and returned gunfire when Taylor's boyfriend fired at them.
Her death, like those of Ahmaud Arbery and now George Floyd, have sparked outrage across the nation, with many Louisville protesters tonight holding signs bearing Taylor's name.
The City of Minneapolis is urging protesters near the burning police station to retreat after "hearing unconfirmed reports that gas lines to the Third Precinct have been cut and other explosive materials are in the building."
"If you are near the building, for your safety, PLEASE RETREAT in the event the building explodes," the city posted on their verified Twitter account.
CNN has not been able to independently verify those reports.
The fire is still ongoing, and has engulfed much of the building. Minneapolis Fire Chief John Fruetel told CNN the fire department is working with the police and other city authorities to assess the situation.
Watch:
US President Donald Trump just tweeted about the ongoing protests in Minneapolis, warning that "when the looting starts, the shooting starts."
He criticized Minneapolis Mayor Jacob Frey as "very weak" and showing "a total lack of leadership."
"These THUGS are dishonoring the memory of George Floyd, and I won't let that happen. Just spoke to Governor Tim Walz and told him that the Military is with him all the way. Any difficulty and we will assume control but, when the looting starts, the shooting starts. Thank you!" he tweeted.
It's past midnight in Minneapolis, but protests are still ongoing. Earlier tonight, demonstrators set a police precinct on fire, which continues to burn. All staff inside the building were evacuated earlier in the day, and the fire department has yet to arrive on scene and extinguish the flames.
Some context: This is now the third night of protests across Minnesota and the country, following the death of George Floyd, who was shown on video being pinned to the ground by a white police officer who pressed his knee on Floyd's neck for several minutes.
Floyd, a 46-year-old black man who was unarmed and handcuffed, pleaded that he could not breathe. He was declared dead at a nearby hospital soon after, according to authorities.
CNN's Brian Stelter explains more:
The Dalai Lama has deplored the death of George Floyd in Minnesota and blamed discrimination and racism for his death.
The 84-year-old exiled spiritual leader -- who is revered as a living god by millions of Tibetan Buddhists -- gave a virtual teaching to followers from his home in Dharamsala in northern India on Friday morning local time.
"We see in the news channels, the media about discrimination on the basis of color or religion these days, and then there is killing due to that, and then there are some who even take it as a pride to be able to kill somebody," he said.
He specifically pointed to George Floyd's death, describing seeing footage of the police officer who "actually pushed his knee on the neck of that black person."
"So because of this discrimination, racism on the basis of race, such things are done," the Dalai Lama said.
Minneapolis authorities are still assessing how to approach the ongoing fire in the police precinct, Minneapolis Fire Chief John Fruetel told CNN on the phone.
"I do know they were trying to set fire on the front door area of that building," he said. "I do not know that it (the fire) gained access to that structure as of yet. But I do know that they were certainly trying to set the building on fire in the front door area."
He added that it was a "challenging time" for the fire department, and that they had responded to multiple fires over the past few days as protests raged.
"We've had different projectiles swung at us the last two nights ... We had rocks thrown at us at the last scene. We have to consider the safety of the firefighters in those areas so we're being cautious," he said.
The department has a plan in place and may go to the burning precinct to try and put it out, but that decision will depend on the situation, he said. "That's the number one priority of ours, to make sure we keep our folks safe."
He added that he was "a little bit shocked, a little disappointed" to see the police station being burned, and called for an end to destructive action.
Watch more: