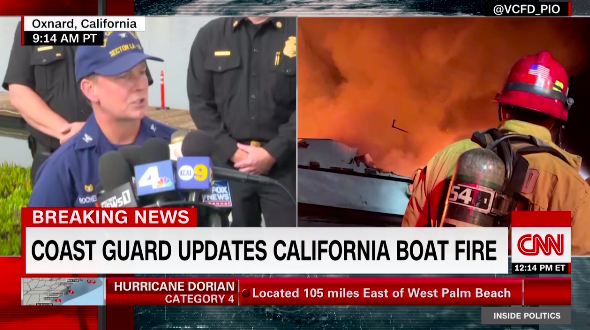 There are 34 people unaccounted for in the Conception fire, Captain Monica Rochester, US Coast Guard Los Angeles Long Beach Sector Commander said.
Rochester said there were 39 people onboard and five were rescued by a Good Samaritan boat called The Grape Escape.
Rochester said they are still is in a response phase, conducting shoreline searches. The vessel sank about 20-yards off the coast in 54-feet of water. A portion of the bow is still sticking out of the water.  
Rochester said the vessel was in "full compliance."
"We are working deliberately with the vessel owner/operator, who is with us at the time working on a plan to conduct further assistance for his vessel," she said.
She said the only mayday call we received was the vessel was engulfed in flames. "That's all we received."